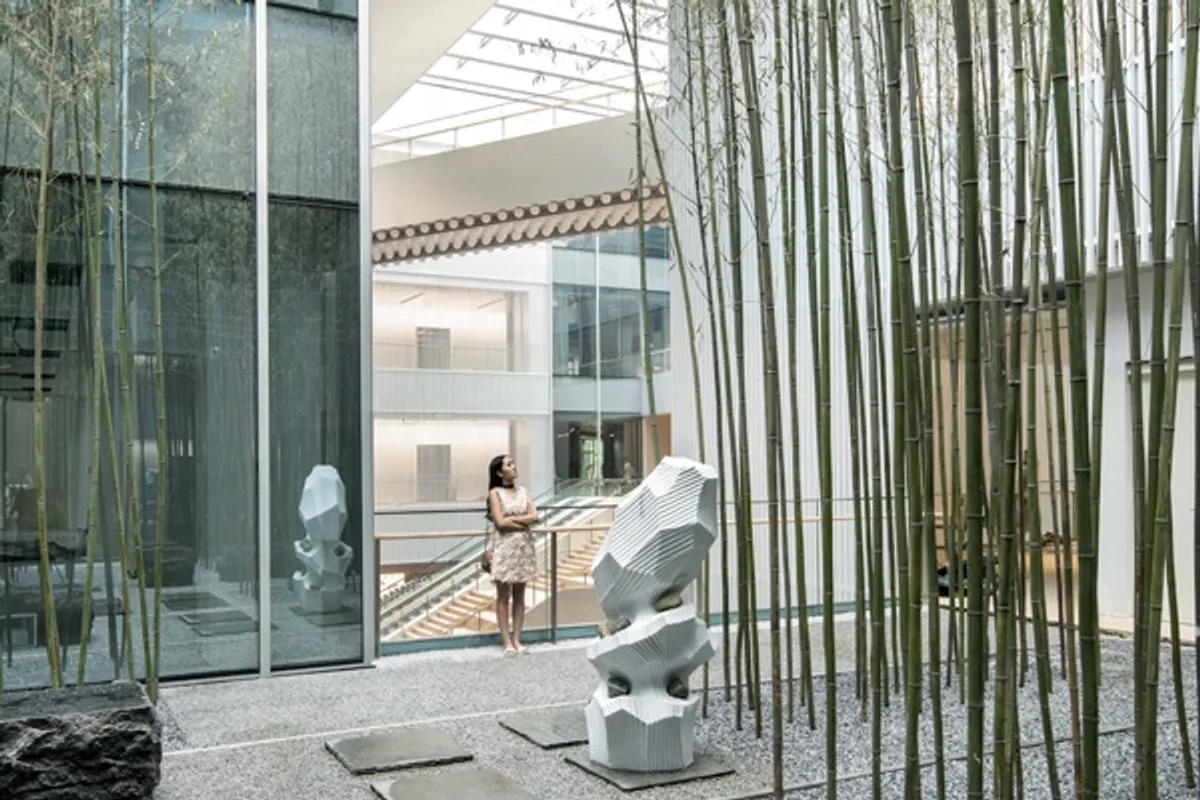 Schmidt Hammer Lassen Architects' redevelopment of Vanke Times Center in Beijing opens with art installations and a meditation garden
The 47,000-square-meter mixed-use building brings offices, retail and creative spaces to the city's growing media district.
BEIJING, CHINA — August 21, 2018 — Located in Beijing's busy Chaoyang District, Vanke Times Center is a new crea-tive urban complex that blends retail shops and offices with grand art installations, a multi-functional exhibition space, and a bamboo meditation garden. Vanke, one of the country's largest residential property developers, commissioned Schmidt Hammer Lassen Architects for its first complete renovation project — the revitalization of a former shopping mall into a vibrant hub for the city. Now complete, Vanke Times Center is home to a host of retail shops on the basement and ground floors, while upper floors will house offices, green spaces and events.
- Vanke Times Center is a significant project for us as it signals a strategic judgment of the urban regeneration market, said Xue Zheng, Design Partner at Beijing Vanke Co. Ltd.
- Schmidt Hammer Lassen's diverse body of work and imagina-tive design scheme matched the value of our enterprises and our vision for Vanke Times Center, our first building among Beijing Vanke's Manhattan Project.
A light-filled, creative urban complex
The original building consisted of four levels on a rectangular plane with a modest central atrium created primarily for cir-culation purposes — a design typical of a 1990s large-scale shopping mall. In order to bring more light into the building, Schmidt Hammer Lassen created a series of three atriums — two that aim to increase connection and natural light to the deep floor plan, and one carved from the street facade, creating a clear main entrance. Three office clusters, topped with penthouse office space and lush roof gardens, surround the three atriums.
- Our design of the Vanke Times Center redevelopment was influenced by the trend of businesses wanting a more dy-namic, well-rounded office environment for their employees, said Chris Hardie, Partner at Schmidt Hammer Lassen.
- In addition to opening up the atriums and bringing a Scandinavian sensibility to the design, we pushed for the inclusion of artistic and creative spaces that both the public and tenants could enjoy.
The 18-meter-high entrance atrium located on the north side of the building, also known as the "Creative Living Room," opens to the city through a glass curtain wall. Behind the façade hangs a giant suspended sculpture installation by French photographer and artist Charles Petillon called "Cloud Storm." Known for his massive balloon installations, Petillon's white balloon piece for Vanke Times Center endows the atrium with a whimsical overhead wonder and adds a theatrical quality to the space. Also in the Creative Living Room atrium hang two cantilevered conference rooms that jut out from the wall and provide views from Petillon's clouds to the bustling activity below. Art permeates the Vanke Times Center with eight additional significant pieces scattered throughout the building.
The "Media Plaza" is the core of the building that connects the underground commercial area to the ground floor office space with two sweeping bamboo staircases. The open, ascending layout of the Media Plaza with its scattered seating make it an ideal venue for conferences, lectures, art exhibitions and performances, or just a leisurely rest. Between the 24-meter-high skylight and the staircase are large walkways and footbridges that connect upper levels. Vanke Time Center's third and most intimate atrium is the "Meditation Bamboo Garden" on the western side of the second floor. The space is an oasis for office workers looking for a restful escape during the workday. Dotted with vertical bam-boo-like installations, the Meditation Bamboo Garden directs the gaze up towards the sun and sky beyond the atrium's skylight. The berth white gravel and stone waterscape of the bamboo forest enhance the quiet atmosphere of the space.
Nordic elegance in Beijing's media hub
The three primary materials used throughout Vanke Times Center — natural anodized aluminum, bamboo and glass — reflect the simplicity, elegance and tradition of Scandinavian design. Subtle reflective surfaces like the perforated ceiling and alumina panel walls define the building's cool color palette and capture subtle light changes. Low-iron glass, reflective glass and frosted glass are juxtaposed with touchable elements such as the large steps, handrails, and fixed furniture made of warm, natural eco-bamboo products.
As a renovation project, Schmidt Hammer Lassen's sustainable design focuses on site utilization, energy consumption, water-saving measures and careful material selection. The building has been pre-certified as LEED Gold.
"One of our firm's first projects in China was Anderson Garden, a high-end residential complex also in the Chaoyang Dis-trict, making the completion of Vanke Times Center a full-circle moment, said Rong Lu, Partner at Schmidt Hammer Las-sen. "During this very transformative time for Beijing real estate, it is a thrill to have designed Vanke's first renovation and urban regeneration project flush with art and light right in the heart of the city's media corridor."
About Schmidt Hammer Lassen Architects
Schmidt Hammer Lassen Architects, now part of global architecture and design firm Perkins+Will, is one of Scandinavia's most recognized and award-winning architectural practices. The company was founded in Aarhus, Denmark in 1986 by Morten Schmidt, Bjarne Hammer, and John F. Lassen, and is led today by all three founding partners along with partners Kim Holst Jensen, Kristian Lars Ahlmark, Chris Hardie, Rong Lu, Bente Damgaard, Mads Kaltoft, Trine Berthold, Kasper Frandsen, Nathan Smith, Tiago Pereira and Rasmus Kierkegaard. Working out of studios located in Copenhagen, Aarhus, and Shanghai, the firm provides skilled architectural services all over the world, with a distinguished track record as de-signers of international, high-profile architecture. Cultural and educational buildings, offices, commercial, retail, and resi-dential buildings, often in mixed-use developments and complex urban contexts, are cornerstones of the firm's output. The practice has extensive global experience in the design of libraries and other public and cultural landmark buildings, and its innovative, sustainable, and democratic approach to architecture has attracted global attention, winning more than 100 national and international awards. For more information, visit www.shl.dk.
###
FACTS /
Client
Beijing Vanke Co. Ltd
Architecture and interior design
Schmidt Hammer Lassen Architects
Building Area
47,000 m2
Competition
First prize – competition in 2016
Status
Completed August 2018
Associate Architect
Beijing Institute of Residential Building Design and Research Co. Ltd.
Beijing H Concept Architecture Design Company
Landscape Architect
Z+T Studio, Shanghai
Art facilitation
UAP
Façade consultant
Inhabit
Lighting Design
HAN Design Associates
Signage/Wayfinding
2x4
MEP Consultant
BON Engineering Consultants Co., Ltd
Photography