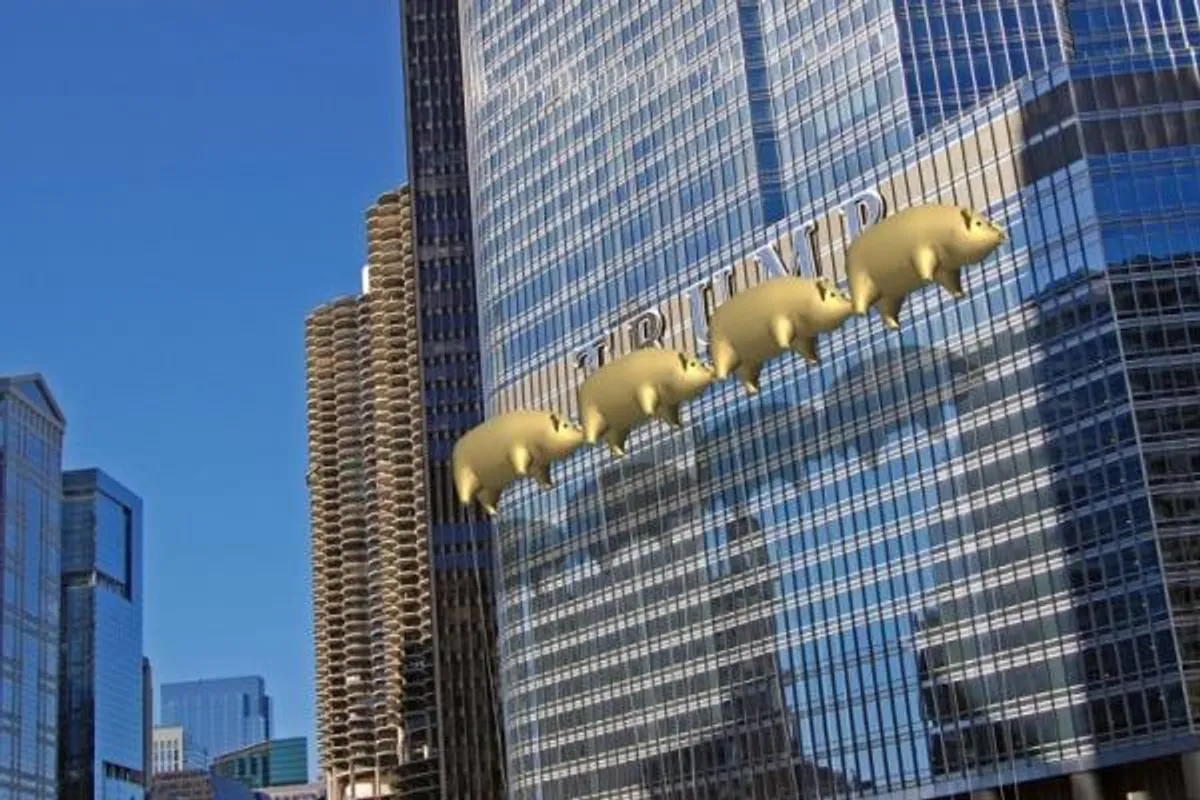 With each week bringing a new controversey to the administration of Donald Trump – the firing of FBI Director James Comey and the leaking of confidential information to Russia, most recently – it's not just Democrats, pundits, and late night talk show hosts taking aim at the President; some artists are adding their commentary to, of all things, his buildings.
Two artworks in particular come to the fore, one proposed and one recently executed – both are temporary and forms of protest.

"<ahref="https://www.flyingpigsonparade.org/"target="_blank">FlyingPigsonParade," if carried out, will block views of the TRUMP sign at the base of the Trump International Hotel and Tower in Chicago for one day this summer. The signage was added to the building in 2014, five years after the completion of the project, in effect acknowledging the success of the Chicago Riverwalk and increased traffic along the main branch of the river. Referencing George Orwell's Animal Farm, Pink Floyd's musical interpretation of the same, Trump's Miss Piggy comments made on the campaign trail last year, and the President's predilection for gold surfaces, the proposed art folly would be made of four gold-colored helium balloon pigs tethered to a boat in the Chicago River. Pink Floyd's Roger Waters OK'd the use of the image (it resembles the cover of their Animals album), but now New World Design, the Chicago-based designers behind the project, need to raise about $100,000-$150,000 and gain approval from the City of Chicago in order to execute it.
Artist Robin Bell, on the other hand, carried out his artwork this week without any approvals. Parking his van in front of the Trump International Hotel in the artist's hometown of Washington, DC, he projected messages above the building's entrance, including "PayTrumpbribeshere" and "Emolumentswelcome." The Trump Organization took over the historic Old Post Office Building in 2012 and converted it into a hotel, which opened in October 2016. Given that it leases the building from the General Services Administration, the hotel has become a symbol of Trump's conflicts of interest, specifically in regards to the Foreign Emoluments Clause. Bell was able to project the clause above the entrance (below) before the hotel quickly asked him to stop. But photographs of the protest-art have been disseminated widely online, drawing attention once again to one of many controversies swirling around the President – and reminding us of the power of typography on architecture.