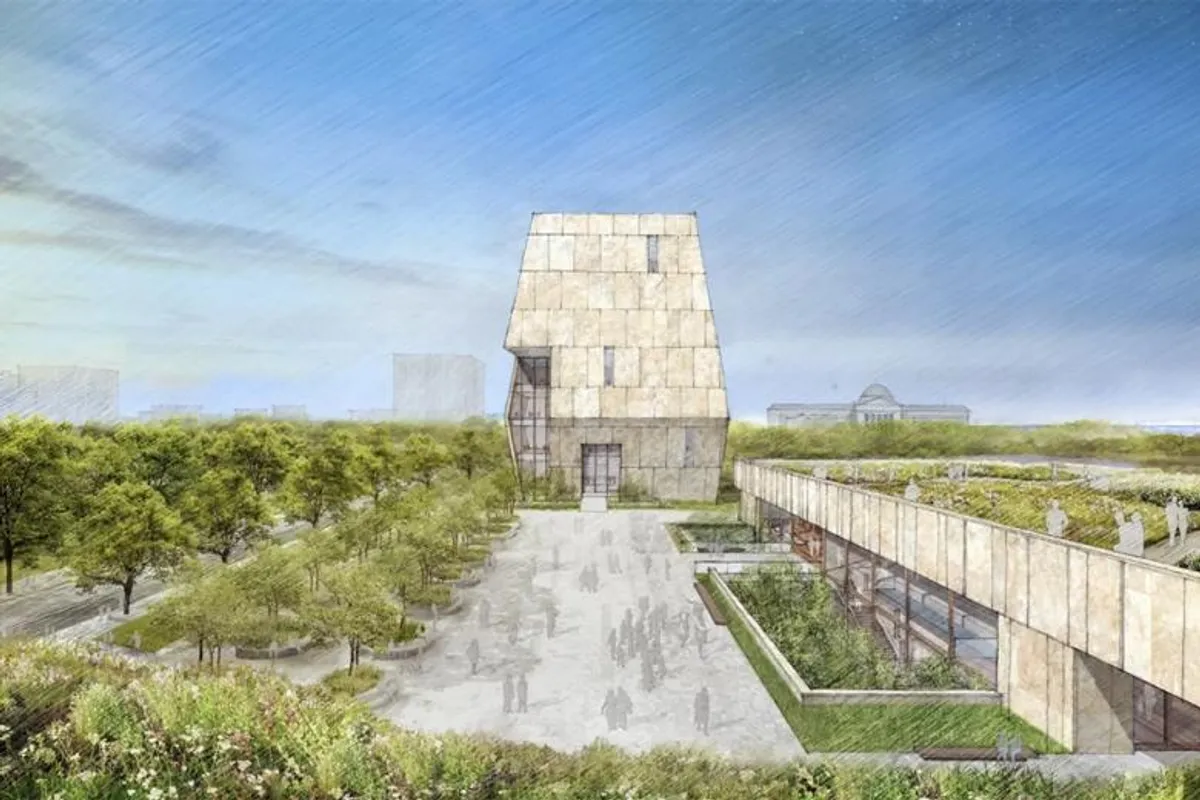 First Look at Obama Presidential Center
The Obama Foundation has released a couple teaser images for the Obama Presidential Center, designed by New York's Tod Williams Billie Tsien Architects | Partners with Chicago's Interactive Design Architects for a site on Chicago's South Side.
by John Hill
The design team for the Center was selected in June 2016, though no design details were officially revealed until today. The long-anticipated release coincides with a community event held today at the South Shore Cultural Center with President Barack Obama, Michelle Obama, Mayor Rahm Emanuel and community leaders.

Situated in historic Jackson Park, near the University of Chicago, the Museum of Science and Industry and other South Side institutions, the Center is made up three buildings. Most prominent is the Museum, which sits on the north, is the tallest building on the site and is meant to serve as a beacon for the Center. It and the single-story Library and Forum define a public plaza facing west, while these low buildings feature planted terraces as an extension of Jackson Park. Per the Obama Foundation, "these buildings will form a campus, a place for doing and making, as well as looking and learning, and will build upon Jackson Park's history as a public gathering place on the South Side."

The importance of the landscape design, which is being handled by Michael Van Valkenburgh Associates (the New York firm recently designed two popular Chicago public spaces: the 606 bike trail and Maggie Daley Park), is evident in the images released as well as the words of the Obama Foundation: "Generous pathways will take visitors from the park to landscaped roofs above these two buildings, offering views of the plaza, the Lagoon, and Lake Michigan." The fluid movement, low-scale buildings and planted roofs recall Williams Tsien's earlier LeFrak Center at Lakeside in Brooklyn's Prospect Park.

While the design attempts to integrate the sizable project into Jackson Park, the Museum clearly serves as an architectural icon. With Williams Tsien and IDEA designing the project, this form – a carved, faceted "mass" that culminates in a public roof terrace – is like a subued icon, similar in vein to the nearby Logan Center for the Arts. It remains to be seen how locals will receive the design and how much it will change as it gains the necessary approvals for construction.