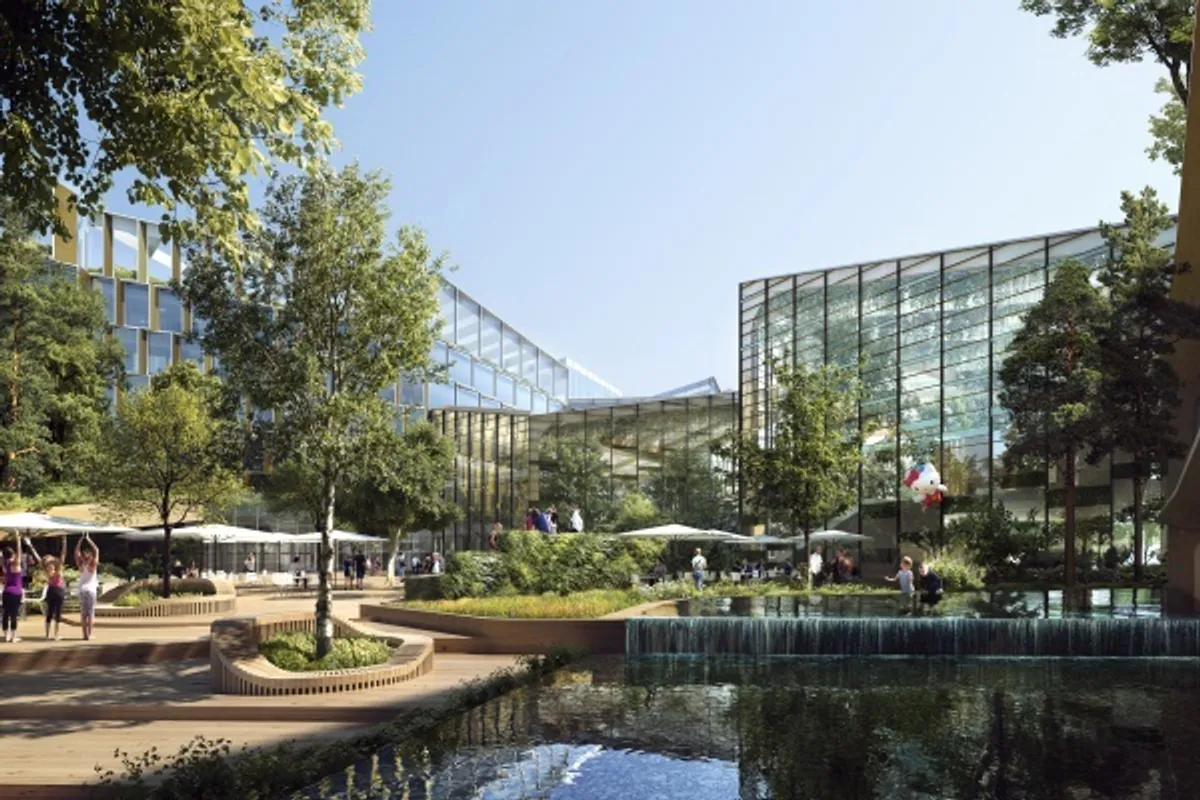 Reinvent Paris Project, 3XN architects
Green walls for healthy air
How to improve the air purification role of passive green walls and clean the air naturally? Kasper Guldager's Active Green Lung Wall proposes a more efficient way of indoor air cleansing using natural solutions and planted building elements to make the building space fresh and green again. Take a look.
Text by Krasimira Georgieva
Active Green Lung wall
Increased natural air purification
The Green Lung Wall system by 3xn Architects combines the green wall with a ventilation system that blows a flow of air through the root microbes. This process of accelerated phytoremediation multiplies the air purifying effect up to 100 times. Energy consumption is reduced, since 60% of the air in a building can be reused, which further reduces energy consumption for heating and moisture adjustments.
But why is it so important to pay attention to air quality?

- As we spend an average of 80-90% of our time indoors air quality remains a real issue affecting our health and well-being. We breathe 15 kilograms of air per day, but what we breathe is rarely air alone. Too often it is a toxic cocktail of organic and inorganic pollutants whose effects pose serious health risks. Many buildings have concentrations of pollutant particles and gases up to 10x greater than outside. In the short term a poor indoor climate causes concentration problems, headaches, and irritation to the eyes and respiratory tract. In the long term it is linked to asthma, allergies, cardiovascular diseases and cancer. 
Says Kasper Guldager
VOCs cleaning plants
Volatile organic compounds (VOCs) are organic chemicals both man-made and naturally occurring. VOCs are not acutely toxic, but combined with other VOCs can have long-term harmful effects on human health. Formaldehyde is considered one of the most harmful VOCs. Improving indoor air quality by using the natural air cleaning capacities of certain plant species and microbial ecosystems is a step towards creating a healthier climate in buildings.
Hedera Helix
Nephrolepis Exaltata and Hoya Carnosa
Plants, phytoremediation and ecosystems
- As plant neurobiologist Stefano Mancuso points out, plants are sentient and thus are endowed with senses with which they communicate with each other and with animals. They also sleep, remember, and can even manipulate other species. Therefore we should not treat them as minor, vegetating organisms.
Kasper adds: 

- The Reinvent Paris building connects two isolated districts with a unique construction on a bridge over a busy ring road. The inspiration for the project came from nature and from the veins of a leaf – where the various side strings spreads out from the middle string in the leaf. And the building itself functions as a plant itself with integrated Green Lungs in the building's main public area. With the Green Lung concept, our goal was to study how to improve indoor air quality by using the natural air cleaning capacities of plants and microbial ecosystems. Plants can help to clean the air and water and soil through a natural process called phytoremediation.
Photo credit: 3XN architects