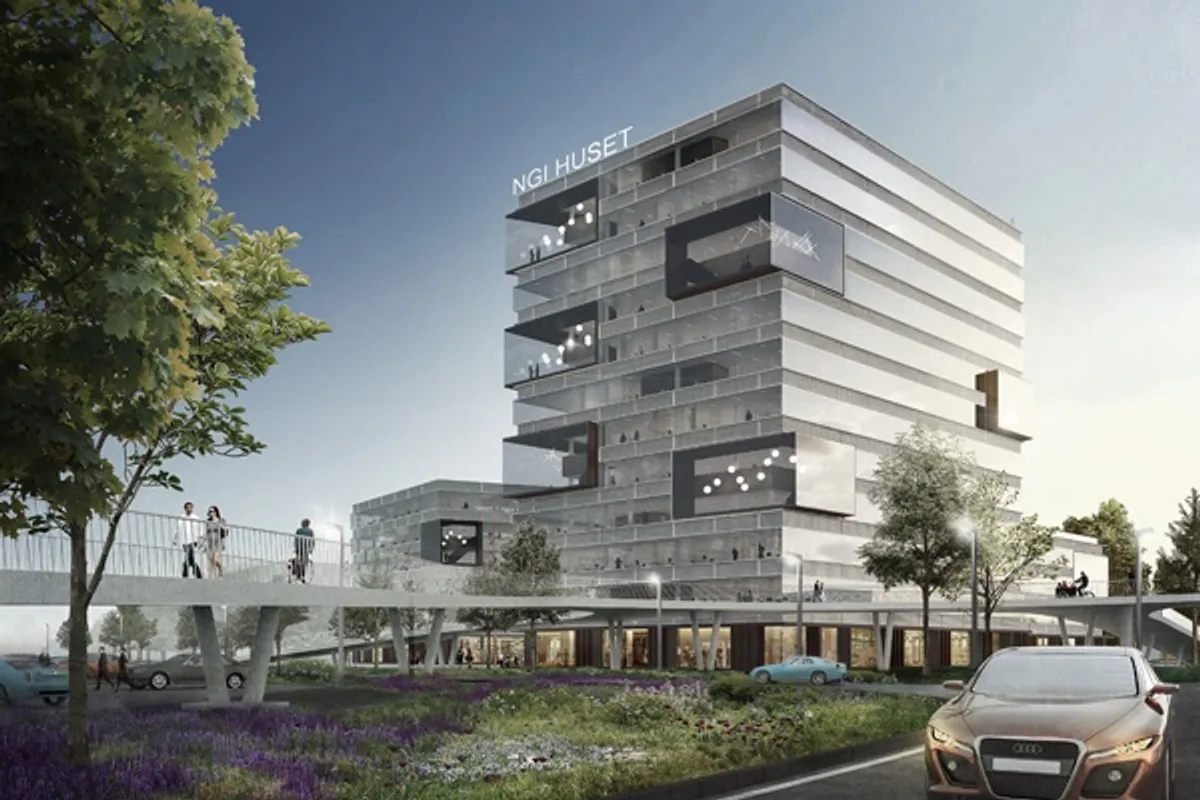 Schmidt Hammer Lassen Architects to design new campus complex for the Norwegian Geotechnical Institute
The approximately 30,000-square-metre campus complex will comprise a pair of sustainable, modern buildings that will enliven both the science and greater Oslo community.
Oslo, Norway--January 18, 2018--NGI - Norwegian Geotechnical Institute, Norway's largest geotechnical specialist community and a leading centre of research and consultancy in engineering-related geosciences, selected Schmidt Hammer Lassen Architects to design a new, contemporary campus. The new complex will not only create a knowledge axis in northern Oslo, but also introduce indoor and outdoor spaces for the public in an area that will see increased pedestrian and bicycle traffic in the coming years.
The campus complex will comprise two new buildings linked by a common entrance area across two levels, and will make room for up to 300 employees. The new NGI campus aims to create sustainable and flexible frameworks for staff, partners and clients, and attract start-up companies both inside and outside of the geoscience industry. The new buildings will serve as an open, dynamic meeting place for visitors and residents.
- The campus is designed with a modern expression and a strong identity with respect to its context, said Kim Holst Jensen, senior partner at Schmidt Hammer Lassen.
- The campus buildings will stand prominently in the local skyline and will reciprocate the voluminous Ullevål Stadion, Norway's national football stadium located directly across the street.
A changing corner in Oslo
With approximately 20 percent of the campus open to the public, this project is about more than expanding Oslo's science community. Its cafes, shops and meeting spaces on the ground floor, as well as a new public green space, will integrate NGI with the neighbourhood. In addition, NGI sits on the corner of Ringveien and Sognsveien, a busy intersection that will also see the addition of a new cycling and pedestrian bridge in 2019.
The largest of the two buildings has a central, panoptic space that creates visual connection and social interaction between people across floors. It will be possible to look into the advanced laboratories where NGI's vital activities unfold. The building's facade and its framed openings create great transparency, inviting sights from the outside and optimizing the intake of daylight. Roof terraces, solar panel systems and green roofs make up the building's horizontal surfaces.
In addition to the advanced laboratories, the building also includes a central canteen and dining area, offices, meeting rooms, atriums, courtyards, and basement parking. The entire complex will be sustainable and viable in accord with Breeam NOR environmental certifications that are setting new standards for sustainability. As an important parameter, construction will be carried out while the existing NGI remains in operation.
For more information about the Norwegian Geotechnical Institute, visit www.ngi.no/eng.
About Schmidt Hammer Lassen Architects
With more than 30 years of experience, Schmidt Hammer Lassen Architects is one of Scandinavia's most recognized and award-winning architectural practices. Working out of studios located in Copenhagen, Aarhus and Shanghai, the company provides skilled design services all over the world, with a distinguished record of accomplishment as designers of international, high-profile architecture. The firm is deeply committed to the Nordic architectural traditions of democracy, welfare, aesthetics, light, sustainability and social responsibility. Learn more about Schmidt Hammer Lassen at www.shl.dk.
FACTS
Client
NGI - Norwegian Geotechnical Institute
Building area
Approx. 30.000m2
Architect/ Landscape Architect
Schmidt Hammer Lassen Architects
Local Architect
SJ Architects (detail regulation responsible)
Competition
2016, first prize in invited parallel acquisition
Status
The regulatory process began in December 2017