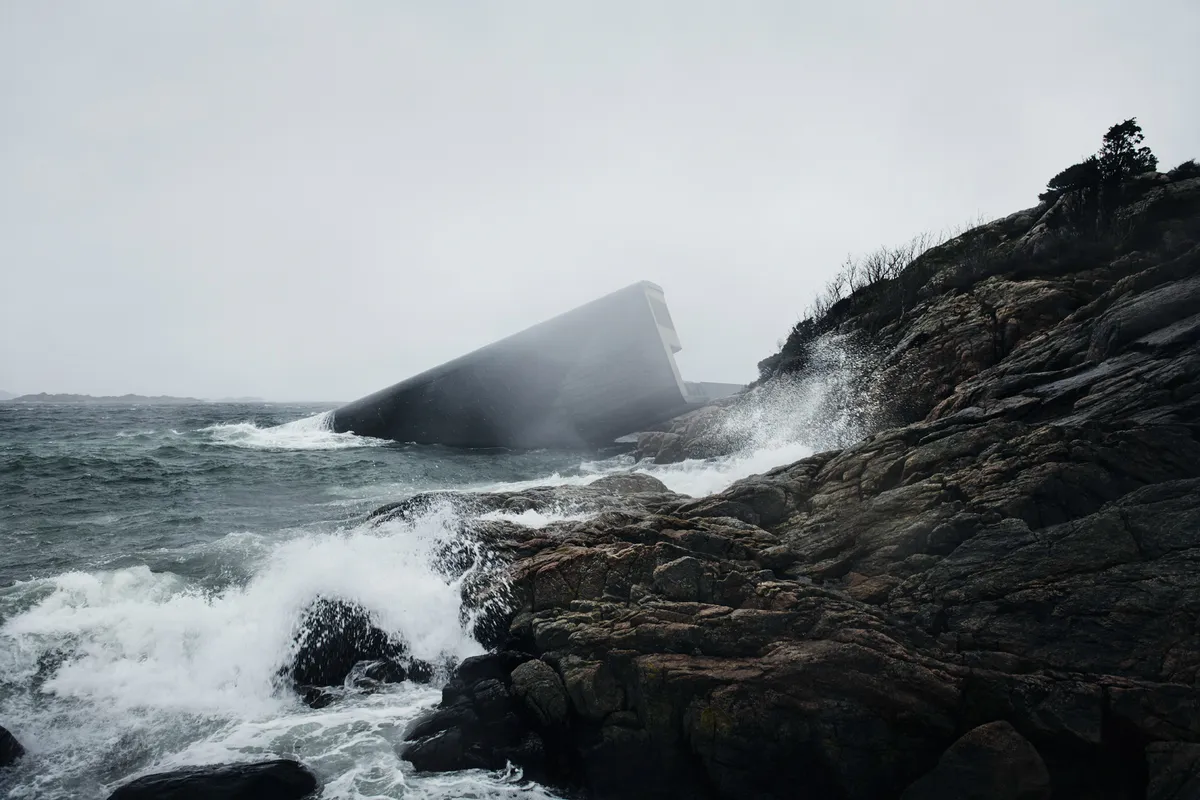 Snøhetta Completes "Under", Europe's First Underwater Restaurant
Europe's first underwater restaurant will welcome guests in Lindesnes, Norway on March 20th, 2019. Located at the southernmost point of the Norwegian coastline, where the sea storms from the north and south meet, the project is situated at a unique confluence. Marine species flourish here in the both briny and brackish waters to produce a natural abundance in biodiversity at the site. The Snøhetta-designed restaurant also functions as a research center for marine life, providing a tribute to the wild fauna of the sea and to the rocky coastline of Norway's southern tip.
In Norwegian, "under" has the dual meaning of "below" and "wonder". Half-sunken into the sea, the building's 34-meter long monolithic form breaks the surface of the water to rest directly on the seabed five meters below. The structure is designed to fully integrate into its marine environment over time, as the roughness of the concrete shell will function as an artificial reef, welcoming limpets and kelp to inhabit it. With the thick concrete walls lying against the craggy shoreline, the structure is built to withstand pressure and shock from the rugged sea conditions. Like a sunken periscope, the restaurant's massive window offers a view of the seabed as it changes throughout the seasons and varying weather conditions.
The restaurant seats 35-40 dinner guests every night, in a dining room protected by half a meter-thick concrete walls. Its culinary focus is to create a fine dining experience based on high quality, locally-sourced produce, with a special emphasis on sustainable wildlife capture. Danish expatriate Nicolai Ellitsgaard from acclaimed restaurant Måltid in Kristiansand is the Head Chef, bringing an international, 16-person kitchen team with experience from top Michelin restaurants.
"Under is a natural progression of our experimentation with boundaries, says Snøhetta Founder and Architect, Kjetil Trædal Thorsen. "As a new landmark for Southern Norway, Under proposes unexpected combinations of pronouns and prepositions, and challenges what determines a person's physical placement in their environment. In this building, you may find yourself under water, over the seabed, between land and sea. This will offer you new perspectives and ways of seeing the world, both beyond and beneath the waterline".